Studio Calendar for 2017 - 2018 - copies at the studio for your fridge!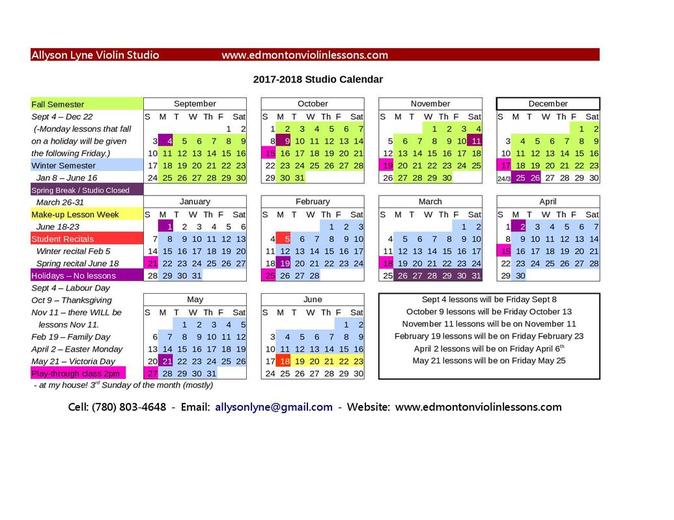 Allyson Lyne

I have been a professional freelance violinist and teacher in Canada for nearly 40 years (started young..). I began violin lessons with Yoko Oike Wong of the Association for Talent Education in Edmonton (Suzuki) at the age of 3, and continued with Marlin Wolfe, Principal Second violin of the Edmonton Orchestra at that time. University studies followed with David Zafer at the University of Toronto; Mauricio Fuks (now at Indiana University) and a Master's degree in Music Performance with Vladimir Landsmann at the université de montréal.

I lived and worked in the Montreal area for 23 years, playing with the Montreal Symphony for a number of years, followed by the Orchestre Baroque de Montréal, the Montreal Chamber Orchestra (as concertmaster), Orchestre Métropolitain du Grand Montréal and a number of smaller groups. Highlights of those years include playing salon music on the Canadian Empress cruise ship, touring with a Schrammel Quartet in Vienna for Austria's 2000th anniversary celebrations, and playing dinner music for visiting heads of state at Government of Canada state dinners in Ottawa. As a member of these various ensembles, I have had the good fortune to tour most countries in Europe, Spain, Turkey, Mexico and the United States. Memorable concerts include playing Ravel's La Valse in Boston's Symphony Hall, Tschaikovsky violin concerto with soloist Anne-Sophie Mutter in Belfast (with armed guards at the door!), numerous concerts at Carnegie Hall with the Montreal Symphony, and flying to Mexico for an evening with the Orchestre Baroque de Montréal. I played on 33 recordings that were released commercially, including numerous Montreal Symphony recordings, I Musici de Montréal, Orchestre Baroque de Montréal, CBC recordings and studio back-ups and film scores. In 2005, I returned to Edmonton and established a private violin studio. While playing occasionally with the Edmonton Symphony and various freelance groups, teaching in the studio is now my principle occupation.